VB Home Now is a nonprofit foundation whose mission is to support and enhance our community's system of services, programs and facilities to make homelessness rare brief and nonrecurring.
​
All contributions to VB Home Now help homeless and at-risk families in Virginia Beach by addressing key needs in the community.
Giving Looks A Bit Different This Year
In these challenging times, many more of our neighbors are struggling to obtain or retain a safe home. In response to COVID-19, VB Home Now has had to modify some of our usual year-end programming and community engagement activities in partnership with the Housing Resource Center in an effort to help keep everyone safe and healthy.

This holiday season we are encouraging our long-time friends and those that are able, to consider supporting our mission a little differently this year, by participating in one of our programs: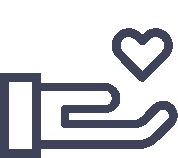 Your contribution will help prevent and end homelessness for many in Virginia Beach.